click image to enlarge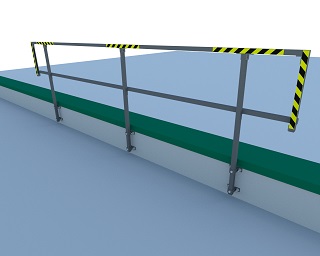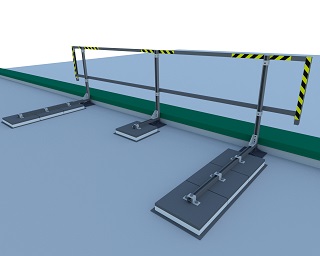 A stable rooftop system offering maximum load distribution while extending roof life.
Economical to install. Your people can do it themselves!
Customized to match your roof type. Should you need change, the system is easy to expand or reconfigure.
Long lasting and cost effective.
Installation Procedure:
PHP Safety Railing: Ballasted, Parapet-Mounted, Installed on Platforms and Walkways, Custom - for single-ply and sloped, standing seam metal roofs.
PHP Products are specifically designed to be installed directly on the roof without roof penetration, flashing or damage to the roofing material.
The system shall be designed to support all weight and equipment as required.
The system shall consist of the following:
Bases
Frame
Platform
Clamping Hardware
High Density
Polyethylene Plastics
and other additives
for UV Protection.
12 gauge, 1 5/8" HDG
3-Hole or Solid strut,
or approved equal,
13 gauge Shur Grip
safety grating planks
or approved equal
13 gauge Shur Grip
safety grating planks, or approved equal
HDG or Electro-Plated
Bolts, Nuts and Washers