U.N. Containers
Poly Overpack 65, 95, 110 Salvage Drums
65, 95 and 110 gallons capacity.
Twist down lid for safe closure.
Handling capacity 440, 650 lbs.
Sump capacity 65, 95, 105 gal.
Nestable.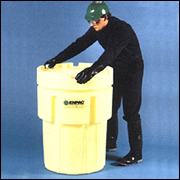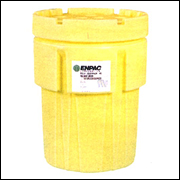 ---
Portable Collapsible Tank
Folding tank, portable.
Steel resistance welded frame, with rugged fabric liner.
No assembly.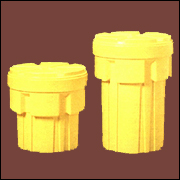 Wheeled Overpack
Mobile one-piece Overpack on 6" polyolefin wheels.
95-gallon capacity.
Polyethylene UN Rated salvage drum.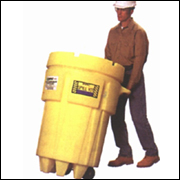 Poly-labpack
20-gallon capacity.
Accepts bottles, cans, 5-gallon pails or can directly contain certain solids and sludge with security.
100% polyethylene, incinerates completely.
Twist on lid provides tight seal.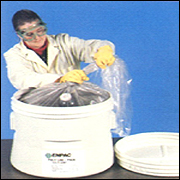 Large Plant Overpack
180 or 600 gallon capacity.
For storing or moving large utility transformers.
Weight 120/275 lbs.
Handling capacity: 2500/5000 lbs.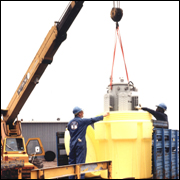 ---
Hazardous Materials Container
Authorized under UN specifications for use with Packaging Group II and III solids, including Class 9 - miscellaneous hazardous waste & raw materials.
36"x36"x36" corrugated container.
Holds one cubic yard of hazardous material or up to 2200 lbs.
Stackable, laminated construction.
Knock-down storage, easily assembled.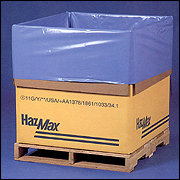 M.J. INTERNATIONAL PRODUCTS
TAP IMAGE TO SEE PRODUCT DESCRIPTION