Spill Response
Spillberm
Non-absorbent dike forms leak-proof seal on most smooth surfaces so that liquids won't sneak underneath. Cleans up with soap and water, can be reused.
Resistant to most chemicals.
Cleans easily for repeated use.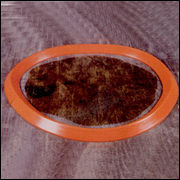 Repair Putty Patching Epoxy
Adheres to steel, glass, masonry and most plastics for toughest repair jobs.
A quick and effective solution to cracks, broken seals and leaks.
Simply pinch off the amount desired, knead to a uniform grey and press into plac.
Hardens like steel in only one hour!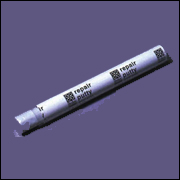 ---
Drain Plug
Stops spill from entering circular drains.
Tapered design wedges securely into standard drains to stop any flow.
Eyebolts are removable.
Non-absorbing, easily cleaned for repeated use.
Sizes: 2", 3", 4" Diameter.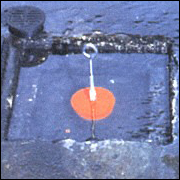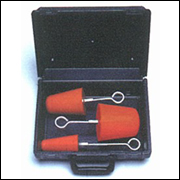 ---
Drain Cover
Most economical response to industrial spill incidents.
Deforms easily sealing drains - temporarily "bonds" to any smooth surface.
Cleans easily with soap and water.
Sizes: 18"x18", 24"x24", 36"x36", 48"x48".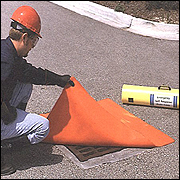 Pop-Up Pool
Sprung steel frame expands to 1'6" or 4'6" at top, 20 or 150 gallon capacity.
Lightweight design, only 4 lbs or 6 lbs including storage bag.
Compact size for easy storage.
Allows liquids to be saved for future use.
Foaming ring rises with level of liquid.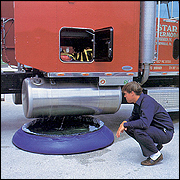 Spill Basin
Self-inflating, compact.
Helps prevent damage from leaks from truck fuel tanks.
Tough urethane-coated nylon, packaged size 12"x8"x6".
40" diameter spill containment holds 43 gallons.
2" thick, 8" high walls.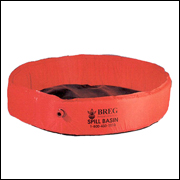 M.J. INTERNATIONAL PRODUCTS
TAP IMAGE TO SEE PRODUCT DESCRIPTION